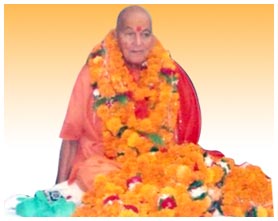 In a pleasant night of September-October on full moon day in the year 1905, incarnation happens of "Shri Prakashanand Ji Maharaj" in the holy house of great worshipper family of Lord Krishna. His father "Kamalkant Chaturvedi" and mother "Kamladevi" used to live in the "nand" village of the "Brij" district. You were always a great worshipper and intellect since childhood and your this pattern of mind was itself recognized by "Pandit Madan Mohan Malviya Ji".
In the shower light of "pandit madan mohan malviya ji" at lalita ghat of kashi, you did your basic education under the guidance of "pandit hariram shastri ji" and then achieved mastery in "Niyay, Viyakaran, Vedant". During your studies, you came into contact with "madhav rao sadashiv rao golvalkar ji" who was suposed to be a professor BHU at that time & Swami Prakashanand Ji was "Mukhya Shikshak" of "Sandhya Shakha".From then, your inclination towards RSS kept on increasing. As a promoter of RSS and in between the horror of India's division, you brought back hundreds of hindus safely from Pakistan occupied Punjab.
With the name of goddess kali and shri trippursundari, he was idolized in "Shri Jagat Guru Ashram". Shri Maharaj Ji expended ashram in various hermitages in places like Haridwar, Delhi, Ujjain, Rishikesh, Lucknow, Jaipur etc. On the celebration of his being 100 years, he was honored with the title of "Yati Samrat" by the "Kashi Vidhyut Parishad".
At "JagatGuru Ashram" in "Kankhal" there is "Magnificent Memorial Samadhi" which has been established in the name of "Shri Prakashanand Ji Maharaj" where thousands of disciples of meditation come to gain peace & grace.The process of meditating legacy and organizations of "Swami Ji" is now being handled by "Shri JagadGuru Parmarthick Niyas" whose most respectable head is "Jagad Guru Shankracharya swami rajrajeshwaram ji maharaj".
Being the founder of "Ram Janam Bhoomi Movement", head of "Dharam Sansad" and head guide of guiding committee for VHP, he worked day and night to spread Hinduism and protect Sanskrit Culture. He was the great acknowledger of Sanskrit grammer and scriptures. He wrote many books like "Vichar Chandroday" and "Shivmahiman Strotra". "Shree Maharaj Ji" was the great 'TANTRIK' and the great devotee of divine knowledge and goddess kali.